---
About HVDA & Herman van den Akker
Herman began his career as a tool and die maker, later becoming a machinist specializing in precision parts. Herman had a career-long passion for improving existing machinery and tools wherever he could. Because of his training and experience, he had the necessary skills to implement the improvements he envisioned. Herman opened his own machine shop, specializing in precision parts. On weekends, Herman restored both his daughter's TR3B and his own TR-250. Both of these cars were stripped down to the last nut and bolt, and bodies removed from the frames. As with his professional work, both vehicles were reflections of Herman's love for always doing things the best way he knew how, and never ever allowing shoddy workmanship to pass.
When he retired, he did so to a custom designed home in the mountains, which had a large shop and the garages necessary to support his hobby of improving Triumph automobiles.
After completion of his restoration projects, Herman began to concentrate his efforts on rebuilding transmissions, differentials, overdrives and half-shafts for Triumph automobiles. He found there were many specialized Churchill tools necessary to do the jobs correctly. He made all the tools necessary, including a transmission dynamic test fixture. Very few transmission facilities have such a device. It allows proof of performance before the transmission is installed.
Herman ultimately became disillusioned with the ability to source Triumph overdrive and transmission parts, as well as with the high cost once they were found. He designed a Toyota 5 speed transmission conversion kit to fit the Triumph automobiles.
After spending several years developing the transmission kit, Herman started HVDA Transmission Conversions in order to offer the kit to the worldwide Triumph community.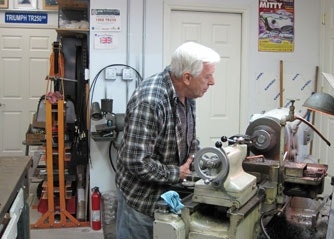 - Mike Moore, Mechanical Engineer